I don't remember why I bought the book. I imagine that I wanted to be one of those idyllic women. Oh, what a laugh.
I think I actually got it after David FINALLY told me that he wanted to be with me after 3 years of running scared 😉
I'm pretty sure I needed something to bolster my courage for the 8 months after that where I would be in LA and he would be in Israel, with zero communication between us.
Based on our past history, I wasn't sure how steadfast his intentions toward me would stay. Truthfully, I wasn't even totally sure about mine.
The one thing I knew was that I could safely pray through The Power of a Praying® Wife in preparation for whoever my husband was to be. If it would be David, awesome, I was then in effect praying for him during a crazy time. If it would not eventually be David, also good, because then I wouldn't be getting my heart too wrapped up.
As I continued to pray through our first year of marriage, I could see so many ways God was answering my prayers in David that I realized I was really missing out not praying them for myself as well! So from then on I prayed "we", "us", and "our" instead of "him", "he", and "his".
Looking over the 10 years of praying these prayers month after month (I think I missed about 5 months spread out in there where I got too behind and had to start over the next month) I am so, so blessed to see what God has done in our lives.
It took me a lot longer than I wanted, but eventually, I finally bought The Power of a Praying® Parent
 and spent some time praying those prayers especially for our children as well.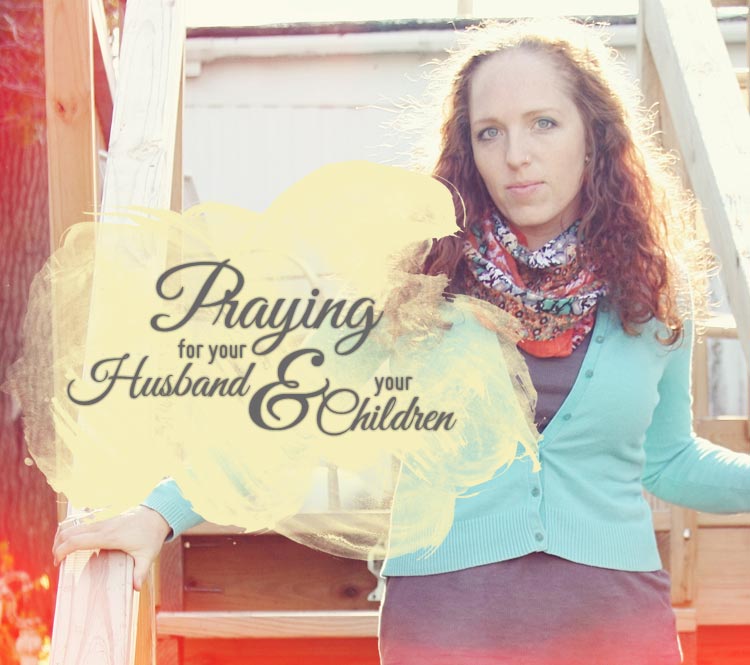 I know it can seem a little lame falling back on ready-made prayers of sorts, but I don't just read them off, I do pray them, and there are some places to insert specifics which help the prayers to be timeless. I find that having a guide like this helps me to cover a wide range of topics each month that I might otherwise not have in mind so well.
It's certainly no replacement for Holy Spirit lead prayer, but it's much better than completely spacing on it altogether. I know how hard it can be with young children to have a regular time of reflection/meditation/prayer coming away feeling much less like Mother Theresa than you may have imagined you should.
If your quiet time more often than not includes "Can you PLEASE be QUIET!!!!!!!! I'm PRAYING HERE!!!" you might be doing it wrong 😉 So let's realize that God gives us a lot more grace than we tend to give ourselves and that he is able to take our little and multiply it.
Accessing Prayer Resources
I typed up the prayers on my computer because after reading through the book a couple of times I mainly just wanted to pray, and I found it a lot easier to stay on schedule when I didn't have to lug a book around everywhere. I also really wanted to have the pronouns changed within the prayers so that my brain didn't have to translate them every time. So I wanted to put up my adapted versions of all the prayers here on our site in case you might find this helpful, too.
I did something a little weird with it in that I made the pronouns plural to include myself and David and our 2 kids, but kept the nouns singular because I still think of it as praying for each of us individually. Yeah, I know, it's just how my mind works 🙂
The reason I don't have any way for you to download the prayers or access the text is they're not mine to share. Since I first typed them all up for myself, Stormie came out with books of just the prayers to pray, and I definitely recommend that because it's a really inexpensive option.
Additionally, I'm working on a new version of prayers because I have a more powerful theology and understanding than I did back then, and want prayers that match that. It will hopefully be ready to share soon, and that will be more easily accessible!
I also redid the prayer images for the Power of a Praying Wife and made them easier to access. Power of a Praying Parent update is coming soon, but until then you can still access the old images by week (below the wife prayers).
Prayers for Your Husband
[easyazon_link keywords="power of a praying" locale="US" tag="tictin-20"]See all "Power of a Praying"® products[/easyazon_link]
1
2
3
4
5
6
7
8
9
10
11
12
13
14
15
16
17
18
19
20
21
22
23
24
25
26
27
28
29
30
Prayers for Your Children