I've struggled a lot over the years figuring out what to get rid of out of my closet, mostly because I've had the notion of "making do". But the last several years that I've been developing a minimalist mindset, I've realized a number of things that make it a lot easier.
Here's a bit of my experience with wardrobe woes. The special facial expressions and side of sarcasm are free.
There are 3 basic reasons we hang onto things in our wardrobe long after we should have said good-bye.
1. You keep thinking you'll figure out how to make it work.
You may have really liked a piece, but gotten it home and discovered that every time you think you're going to wear it, you end up changing because it just doesn't look right somehow.
Maybe it doesn't fit well. Maybe it doesn't go well with the other pieces in your wardrobe. Maybe it just looks bad on your body type and doesn't make you feel good when you look in the mirror.
2. It's still perfectly good.
Not all of us have this "problem", but for those of us who do, it can take a long time to change this mindset. I talk about it more here. It might be a maternity or "skinny" item, but unless you're getting pregnant or skinny within the year, it's probably not worth hanging onto.
3. It's sentimental.
You have to draw a line somewhere on the sentimental stuff. There are lots of great ways to upcycle clothing – a quilt, for example. Also, many times, taking a picture of an item will preserve the memory just as well as keeping the actual item. I have a whole post on "sentimental clutter" here.
Wardrobe Decision Guide Infographic
You may not exactly be pursuing a minimalist wardrobe yet, but this chart should help at any stage. The more you edit down your wardrobe to pieces you actually love and wear, the closer you come to minimalist fashion, whether you're trying to or not 🙂
Note: This is the first time I've tried to make an "if this, then that" sort of thing, and holy cow – HARD, haha. I moved things around and changed it to try to make it work way more than was fun. Even so, when I had David help me proof, we discovered that one of the questions was circular – like you couldn't get to a next step because they kept leading back to each other, LOL. So hopefully all of that is fixed now, but please let me know if you run into an issue or question 🙂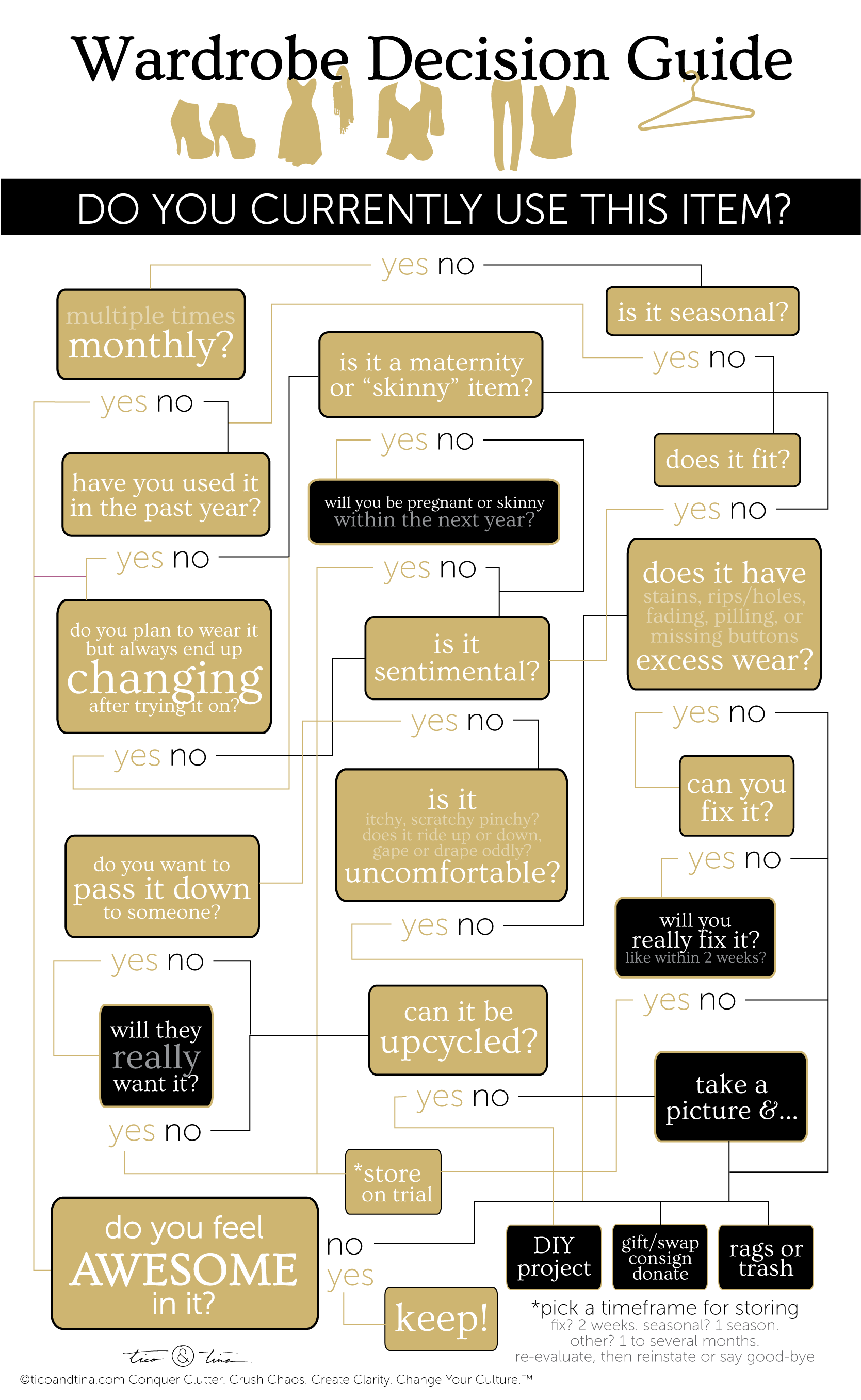 Exploring Minimalism
Want to explore more of what it means to be minimalist and the resulting space and freedom it creates in your life? Let's take simple living from something you wish for to something you actually do!