Our family has never carved pumpkins. And not just our family as a collective – like, none of us even as individuals. To be honest, we don't celebrate Halloween, but we're all about creativity, so it was high time we tried out this fun and inexpensive family activity for fall!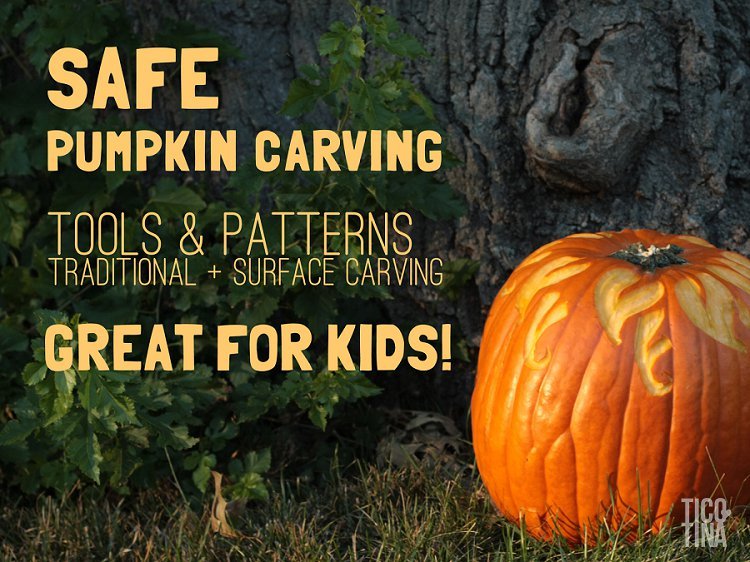 One of the reasons we haven't bothered carving pumpkins until now is because I find it rather annoying to do family activities where the parents actually end up having to do everything and the kids mostly just watch and are begging to try, but really shouldn't. Pumpkin carving seems like a prime example to me. I mean, hello, KNIVES? Yeah, that's not happening any time soon. I had no idea that there are actually tools that make it safe for kids to do the carving themselves! When we saw all the cool stuff from Pumpkin Masters we couldn't wait to try it out. My favorite was the surface carving kit because you don't even have to clean out the pumpkin guts to use it! Call me sheltered, but I didn't know this was even a thing. I've always wanted to be one of those cool people who decorates for every season, but I'm just not, at least not at this stage of life. I enjoyed the chance to fake it for a bit, though 🙂
Another favorite were the cool tools that make super pretty designs with minimal effort, until I ended up standing on a stool to try to get enough leverage to make the poor things work! I finally figured out that our big pumpkin was too thick, so if you want to use the kit with punchouts, make sure your pumpkin is a little smaller, or please video yourself trying and send it to me so I can have a chuckle 😉
Over all, we were really impressed with how easy Pumpkin Master tools are to use. The patterns are very helpful, making it possible to actually create an awesome pumpkin with no experience, and the difficulty level indications on each pattern are a nice touch. Our 3 and 6 year olds were both able to use the kids' carving kit with some help and then when they got the hang of it we let Maeve (6) do some carving unassisted. (Because as soon as she saw the fun tools and knew we were going to be carving, she couldn't possibly contain her creative little self and drew up instructions for her own little design ;))
This was a fun family activity that I'm sure we'll be doing again now that we have what we need to carve like pros, er, Masters! Check us out in action 🙂

Where can you purchase Pumpkin Masters pumpkin carving kits to create more awesome pumpkins for yourself? Find them at your local grocery, drug, or craft store, Walmart ,Target or you can support Tico and Tina by purchasing through our Amazon affiliates link (see below) .
Want to show off your creations?
Enter them in Pumpkin Masters' Annual Carving Contest from October 1-31, 2013: Share a pic of your carving via Instagram or Twitter with #PumpkinMasters2013, submit via the Facebook app, or send via email to: [email protected] to enter for the chance to win one of six prizes, including $5,000 for the Best Pumpkin. Contest details and official rules.
I was selected for this opportunity as a member of Clever Girls Collective and the content and opinions expressed here are all my own.